Fabrication Service: expertise all under one roof
Complete Fabrication Service
In addition to being the industry leading supplier of prosthetic and orthotic components, Ottobock also provide a complete fabrication service for our trade partners.
Our talented technicians have a wide range of skill set and are on hand to discuss your design ideas. Ottobock are at the forefront of fabrication technology with the ability to process 3D scans, perform 3D printing, CAD CAM designs as well as CNC milling.
The Ottobock fabrication team are available to manufacture the complete range of prosthetic and orthotic solutions, from block leather orthoses to cutting edge hydraulic yielding micro processor C-brace KAFO's.
Our carbon fibre technicians have received special recognition for their expert work with many being awarded the Limbcare technician of the year award.
With any Ottobock products, our academy clinicians are available to support you in clinic to ensure the optimal outcome for your patients.
Specialist Services
Water Transfer
This process applies durable printed designs to three-dimensional surfaces. This method allows for unique patterns to be added to any prosthetic or orthotic.
Carbon Fibre
We have highly skilled technicians who can create state of the art Carbon Fibre sockets and braces allowing the thickness and flexibility to be customised to each patient whilst being minimalist, aesthetically pleasing and lightweight.
Block Leather
We are proud that our experienced technicians can create high quality leather callipers which are a rare craft. Despite being very traditional these are perfect for patients who suffer from swelling.
C-Brace
With its microprocessor sensor technology this Knee Ankle Foot Orthosis is custom made exclusively in Minworth allowing an entirely new freedom of movement for patients.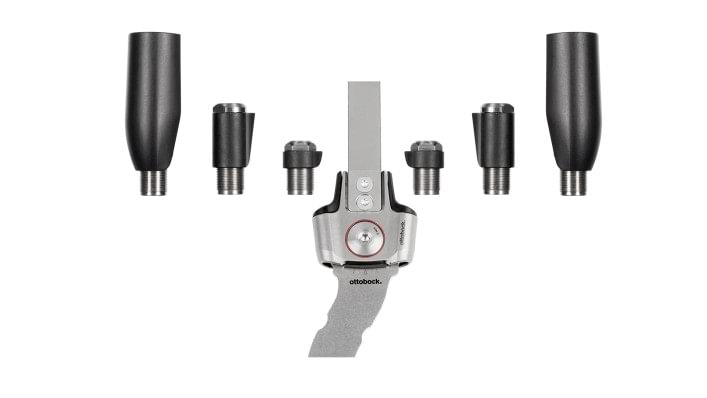 Nexgear Tango
This dynamic ankle joint for ankle-foot orthoses allows modules to be added and removed making it possible for the joint to be adapted as required throughout the rehab process.
Socket Solutions
We can produce high quality prosthetic sockets and offer a complete service to support your in house team when you need to outsource due to reduced workforce or resource.
Thermoplastics
Our technicians are the best at what they do, including manufacturing AFOs and KAFOs. Using the specialist draping process this allows us to create strong but flexible orthoses.
Insoles (CAD/CAM)
We can provide patient scanning or receive CAD to create foam positives for insoles.
Complex Designs
Using the latest technology we can scan files to make positives and our expert team can help create complex design briefs.
Meet the Team
Meet the team
I graduated from the University of Strathclyde with a BSc (hons) Prosthetics and Orthotics in 2014. Before starting with Otto Bock I worked for Blatchford for just over 5 years. I started off as a graduate Orthotist in Sheffield before moving to Cumbria to cover their community clinics in the Lake District.
I have been working as part of the Orthotics Academy for two years in April. My role includes Product support, education and training. Supporting both NHS and Private clinical providers. A large focus of my role in 2019 was certification and support of Ottobock's FES systems, the L100 and L300GO.
Roger Bruton - Production manager
Roger started working as an orthotic technician in 1995 for O+P services and has worked for several companies including Opcare and RSL Steeper before joining Ottobock in 2008. He has extensive knowledge of orthotic production and is now the proud manager of the the Minworth production team.
Rob Briggs - Lamination Technician
Rob started his prosthetic career working for Hangers at Wolverhampton New cross in 1993. He also worked for Steepers in Stoke before joining Ottobock in 2009. An expert in carbon lamination and pre-preg, his attention to detail and high quality work was previously rewarded with the Limbcare technician of the year award. His work has also been used by several Paralympian's and ex-forces veterans.
Shermin Rodney - Leather and Textile Technician
Shermin is another of our hugely experienced technicians. With over 25 yrs industry experience she produces high quality products including made to measure Corsets, Belts and Gaiters as well as producing helmets and finishing our kafo's.
Hayden Docker - Orthotic Technician
Hayden is one of the newer members of the Minworth team with 5 yrs of experience. He joined in 2015 and works as Christopher Lee's understudy in Metal work as well as manufacturing plastic orthotics and Insoles.
Martin Edis - Pre-preg Technician
Martin has worked in orthotics since he left school in 2002. Having started as a plastic technician he now works predominantly manufacturing carbon products from afos to E-mag. His experience helps maintain our high quality.
Christopher Lee - Prosthetic/Metal Technician
Chris started working way back in 1974 for George Wright + Sons before joining The Selly Oak rehab Centre in 1985 working as a prosthetic technician. He joined the Minworth team in 2012. Chris's experience ensures we can deliver high quality manufacture of Kafo's, Calipers and Prosthetic Sockets. He is also our Freewalk expert
How to place an order
Please choose an appropiate format:
Custom Fab Downloads
If you would like more information about any of our specialist services or would like to place an order for a product please email clinic@ottobock.com and we will get back to you as soon as possible.
Gallery
---
Related systems