ProCarve snow & water sports prosthesis
Enjoy unlimited freedom on the slopes!
---
---
What you need to know
Advantages for you
Pure Sport
ProCarve provides targeted support for ambitious hobby and weekend athletes in their individual alpine winter sports. It also meets the highest demands of performance athletes on the piste. It has been designed especially for skiing and snow boarding with a lot of carving.
Skiing with friends
Step into the binding and onto the piste. Expansive skiing terrain, an unending view, fresh winter air – is there anything more beautiful than soaking in an alpine panorama and then carving down the mountainside?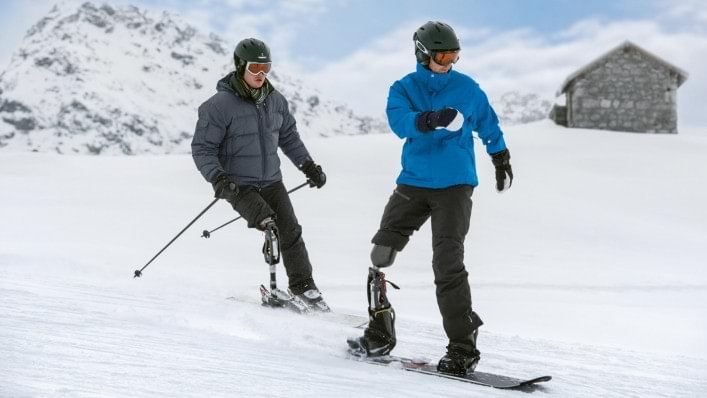 Enjoy the moment
Thanks to the high-performance and robust damping units in the ankle and knee joints, movements are supported in a targeted manner with ProCarve.
Take a breather
The flexion in the ProCarve knee joint works against the resistance of the damper in the engaged state. When a break is needed the knee joint can be disengaged so you can sit comfortably – whether in the chairlift or during après-ski.
Individuality
Can be used for different sports - including water-skiing.
Flexion and extension damping can be individually adjusted by the technician.
Water-skiing with ProCarve
Downloads
ProCarve Brochure
ProCarve Technical Info
---
Accessories
---
Related systems