NHS Microprocessor knee funding for C-Leg 4 and Kenevo
Trust, evolve and thrive with Ottobock
Ottobock have been proudly providing the C-Leg 4 to medium to high active individuals through the NHS since 2016. However, did you know that less active individuals could get funding for the Kenevo. So whether you have a 'through knee', 'above knee' or hip disarticulation amputation, there is an MPK available for you.
The funding means that amputees not only have access to an MPK which provides the most natural walking pattern (the C-Leg) but with the Kenevo the less active individuals can use this leading knee joint for improving mobility and gaining independence.
---
Funding of the C-Leg means that amputees have access to one of the most popular MPK on the market.
Now in its fourth incarnation, the C-Leg 4 is the only microprocessor knee in its class that offers ease of stance release, intuitive stance, real time swing and stance phase control, safe reciprocal walking backwards and stumble recovery.
Amputees can enjoy everyday activities without needing to worry about walking down a slope, quickly changing direction or getting splashed by water.
#ThriveWithCLeg
---
What you need to know
What is available?
C-Leg 4
This microprocessor knee helps amputees achieve a more active lifestyle. It dynamically adjusts to everyday situations from varying surfaces to even walking backwards.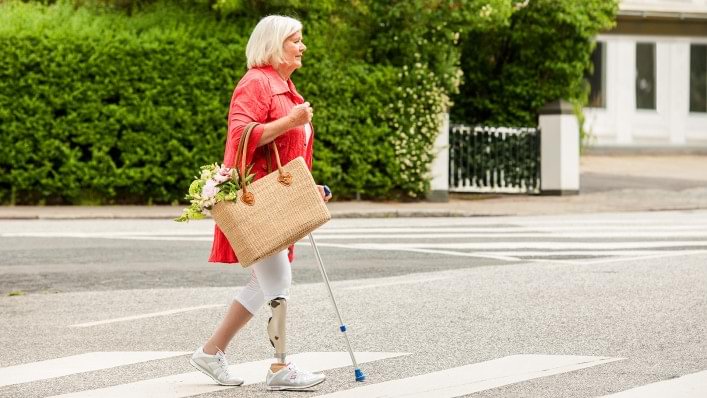 Kenevo
This knee joint will adapt as your confidence grows providing less active amputees independence. Safety is paramount so the Kenevo has the all important stumble recovery function.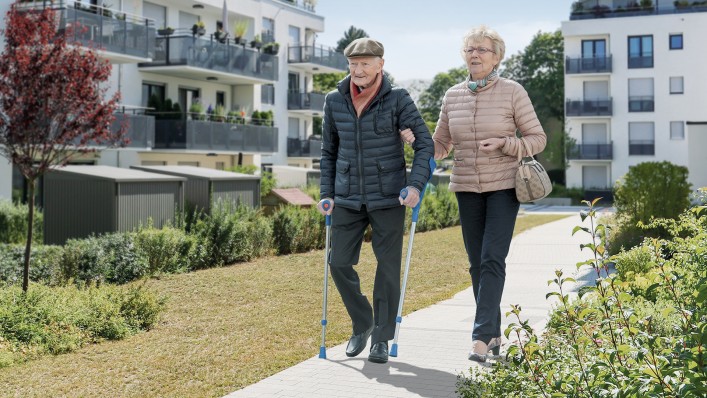 Terion K2
In conjuction with the Kenevo this is a reliable and comfortable foot that is ideal for patients with an elevated need for safety. It provides stability while walking and standing.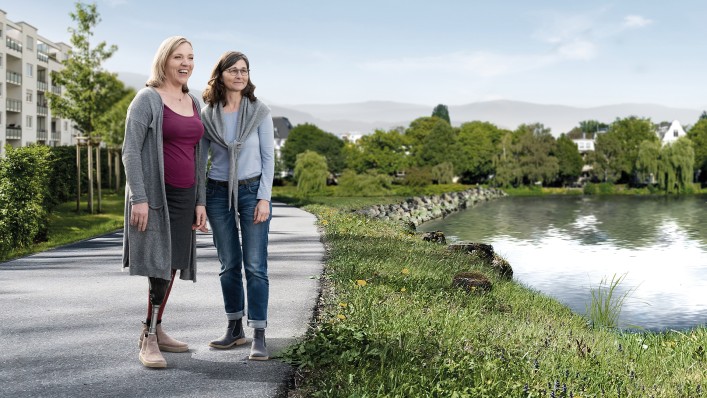 Trias
This foot is recommended for moderately active users who require a lightweight, functional foot. It is available with both the C-Leg and Kenevo.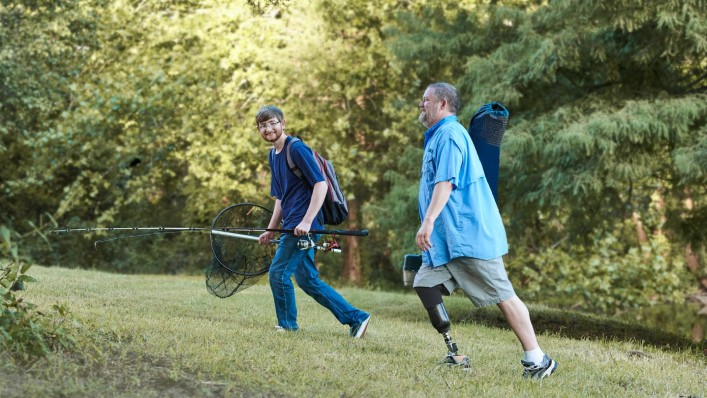 Taleo
This is the latest addition to our foot range, it is fully waterproof and designed for active individuals. Along with the C-Leg it makes the perfect combination.
Triton
This foot is compatible with the C-Leg. It is designed for ambitious individuals and supports high- impact movements across varying terrain.
Hip Joints
Two hip joint options are available on the MPK policy. The Helix 3D hip has a multi-axial joint structure which helps to compensate pelvic rotation and reduces the amount of energy needed for walking. Alternatively the 7E9 is a monocentric hip joint with hydraulic control of the entire gait cycle and helps extend prosthesis usage time.
Cosmetic Covers
There are a variety of different covers available through the funding. Guards & covers offer protection to the entire knee whilst foam cosmetics and functional cosmeses restore natural volume to provide a fuller appearance. These can be made from a choice of material and in an array of colours.
How to apply
How to apply
If you wish to be fitted with an NHS funded prosthesis you need to contact your local NHS Prosthetist. You will then be assessed individually by your centre's multi-disciplinary team (MDT). This could include your Prosthetist, Consultant, Physiotherapist and Occupational Therapist. The assessment will aim to gather your full patient history as well as understand the daily activities, needs and challenges you may face as an amputee. A physical examination may also be required. You will need to be able to demonstrate commitment to the rehabilitation programme required for fitting. You will then, along with your care team, outline clear rehabilitation goals you would like to achieve. The goals will be centred around your ability, needs and aspirations and must be able to justify the need for an MPK. Upon the successful completion of the above, your MDT can then organise a trial. Prior to your trial, you may need to be fitted with a new socket. The trial will last four weeks, allowing you to take the prosthesis home and get the feel of what using a C-Leg or Kenevo in daily life is like.
During the trial you may need to attend some physiotherapy sessions, where you will be taught how to get the most out of your MPK. You will also need to prove that you have enough strength and balance to activate the knee as well as sufficient physical fitness to walk outdoors with the prosthesis. You must also be able to master the control, operation and care of an MPK. Your Physiotherapist may also record how you walk on your current prosthesis, compared to your performance during the trial. Referred to as outcome measures, these may include information on your mobility and noticeable changes that have taken place as a result of wearing your MPK. For example, if you have a history of instability documented through falls, stumbles or near misses it is imperative you share this information with your Prosthetist prior to your trial. Studies have found 64% of C-Leg wearers had a reduction in falls compared to wearing a mechanical knee. If the results of your C-Leg trial illustrate a higher level of stability for you, this will be a key finding to support your need for a C-Leg. The easiest way to keep track of this is by keeping a diary of your daily activity. Upon successful trial completion and based on your care team's recommendations, you may then be eligible to be fitted with an NHS funded MPK.
---
---