Bradley's story - L300 Go
Brain Tumour Survivor Wouldn't Be Able To Lead A Normal Life Without PhysioFunction And An L300 Go FES.
Bradley Price has had a roller coaster of a life but he continues to surprise Doctors and Clinicians thanks to his determination and persistence. At a very young age he was diagnosed with an inoperable brain tumour but today you wouldn't be able to tell due to all his hard work at PhysioFunction and the use of his Ottobock L300 Go Functional Electrical System (FES).
At the age of three years old Bradley was diagnosed with a brain tumour, thankfully he had radiotherapy and small surgery which led to him having a relatively normal childhood. However, when he was about eighteen it started to cause him problems again and by the time he was twenty three he was having significant seizure activity which resulted in the doctors having no choice but to try and remove the tumour. The side effects of the surgery were drop foot and the limited use of his right arm and hand. Following the surgery Bradley contacted PhysioFunction and tried different equipment to help his drop foot. For the next couple of years he used an FES Stimulator device which was provided to him through the NHS. It assisted in lifting his foot but he found it challenging and time consuming to put on with just one hand and he felt self-conscious as he had wires going down his leg.
At the UK launch of the Ottobock L300 Go, PhysioFunction held an assessment day; Bradley Price was invited to attend having been identified by the clinical team as a suitable candidate. Bradley was assessed and both the clinical team and Bradley were impressed with the effect of the L300 Go on Bradley's walking. His clinician was amazed at how easily Bradley was able to put on the L300 Go and independently control the device.
As soon as he was able, Bradley purchased the Ottobock L300 Go, which consists of a simple lower leg cuff with one internal electrode. The clinician programmes the device to provide stimulation to the nerves and muscles of the lower leg to assist with foot drop. Foot drop can occur for a number of reasons for example in those with MS or following a stroke, or brain injury. The system is designed to lift the foot when walking, thus improving the gait pattern, making walking smoother, safer and less effortful.
Four years on Bradley finds his L300 Go easy to use. It allows him to walk around in bare feet, he isn't as self-conscious anymore and means he can wear shorts again, which is very important to him. "It made me feel so free…it's been wonderful to be honest", explains Bradley. The biggest difference for Bradley is the confidence he now has, he no longer dreads walking into a room full of people worried they may all look or say something to him. He has even managed to take part in the Twilight walk for Brain Tumour research for the last few years and looks forward to taking part again in the future.
Bradley and his mum would like to thank PhysioFunction for their continued support. They couldn't fault the service they receive, they are warm and welcoming and they find going to the clinic is like going to see old friends. Even during the pandemic they have still been at the end of the phone to offer vital support.
---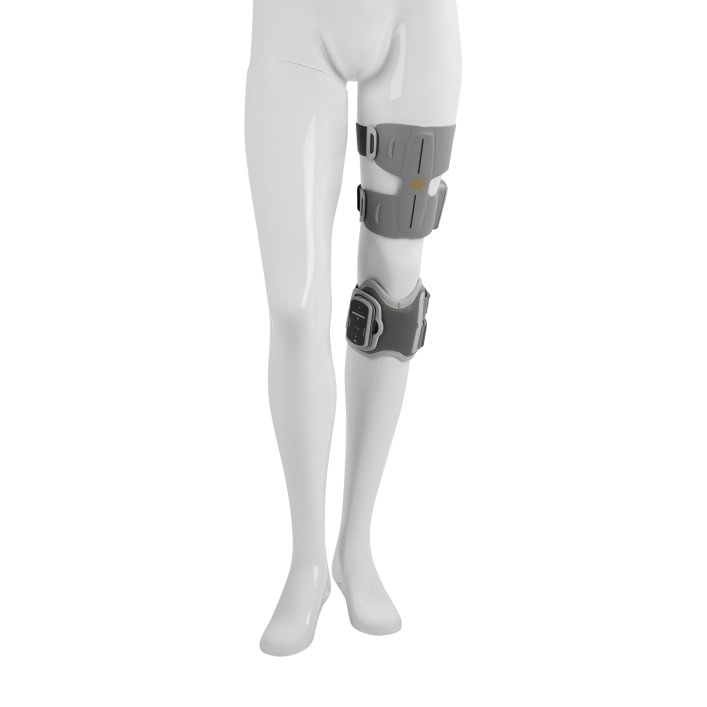 People who have suffered a stroke or brain injury, or are living with conditions such as MS, or incomplete paralysis often experience drop foot which can inhibit their ability to walk.
The L300 Go system is designed to lift your foot as you walk, thus improving your gait pattern, making it smoother and safer. This device can also be used for knee instability and promotes muscle rehabilitation.
The L300 Go stimulates the affected nerves and the muscles that they control, and can therefore initiate dorsiflexion as well as knee flexion/extension. This has proven to enhance the individual's ability to walk unaided and therefore enjoy higher level of independence.
Innovative technologies such as a new learning algorithm and high-grade movement sensors ensure a more dynamic gait.
The functional system promotes muscle rehabilitation, mobility in the joint and circulation
The surface stimulator and a thigh cuff allow the knee to be stabilised