Caroline's WalkOn Reaction story
WalkOn Reaction to help Caroline compete at Warrior Games
Former armed forces personnel member Caroline Buckle is preparing to represent her country at one of the largest sporting events for ex-servicemen and women — the Warrior Games — with the help of Ottobock's WalkOn Reaction orthosis.
Caroline, 39, from Wombwell near Barnsley, will compete in her speciality sport, para-powerlifting (86-95kg classification), as well as seated throws (shot put and discus), swimming (50m freestyle) and cycling (road race) at the games, which take place from June 21st to June 30th in Tampa Bay, Florida.
Caroline had been in the Army since leaving school but was medically discharged from the AGC (Adjuant General's Corps) in 2014 after a long career supporting servicemen and women with HR issues. She travelled the world in this role, including postings in Germany, Kenya and Cyprus, but after rupturing her Achilles tendon in 2009, things were never the same.
Her injury went misdiagnosed for nine weeks and by the time her leg was operated on, her Achilles had shortened and was almost beyond repair. She suffered significant nerve damage and drop foot as a result and this, combined with mental health issues, led to her exiting the forces for good.
"I managed to hide the drop foot quite well, the Army boots sort of held my foot in place," said Caroline, who now works in the NHS supporting junior doctors with HR issues and visits schools to inspire children to try more sporting activities. "I had a lot of physio but it affected my mental health and I ended up just sitting on the sofa, gaining a lot of weight and basically I gave up on myself."
Things changed when she was invited to take part in the Sports Recovery programme, run by charity Help for Heroes, and rediscovered her love for sporting activities – having previously been a talented dancer, runner and swimmer as a youngster.
"I initially went just to socialise, but I realised I could do things again. I could get back into sport and it gave me that determination to build my confidence, to be proud of myself again."
From this programme, she was invited to represent the UK at the 2016 Invictus Games in Orlando, and it was there, while running, that a representative from Ottobock attending the games for technical services support, spotted her drop foot issue and invited her to try wearing an ankle-foot orthosis (AFO) brace, called the WalkOn Reaction.
The WalkOn Reaction helps lift the foot during the swing phase of walking, preventing the tip of the foot from catching easily on small obstacles or uneven ground and making walking much safer.
Thanks to its special design, the WalkOn Reaction has a high energy return and supports the knee joint as well.
"It has literally changed my life," said Caroline, who uses the WalkOn Reaction not only for competition but also in her everyday life as it assists her affected leg and relieves injury risk on her other leg. "Within 24 hours of trying it, I was able to run up the stairs for the first time in about nine years. I could complete a triathlon, and I could get back into cycling again because it gives me the support to push through the pedal. And best of all, I'm pain free."
---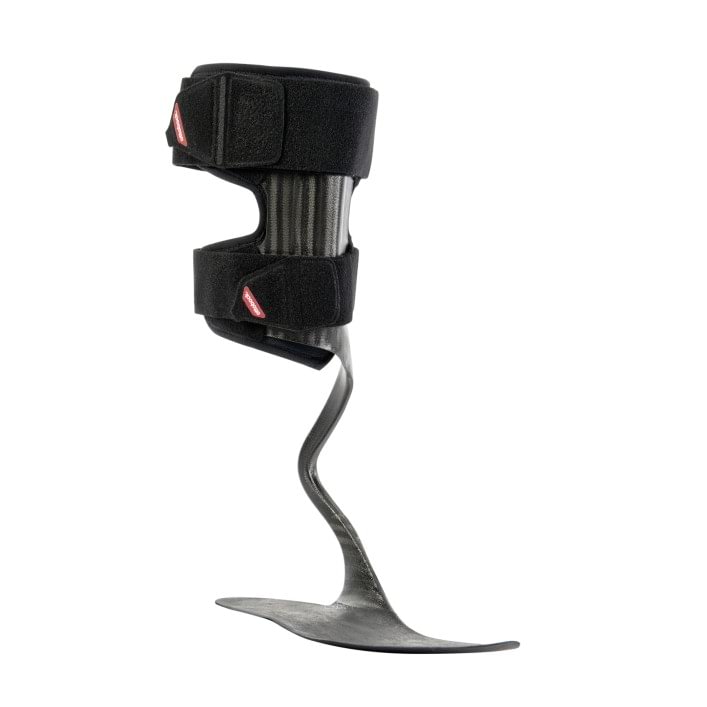 WalkOn Reaction
The WalkOn Reaction helps lift the foot during the swing phase, so that the gait becomes safer while the risk of stumbling and falling is reduced. The tip of the foot no longer gets caught as easily on small obstacles or uneven ground. The WalkOn Reaction also supports the knee joint. When the foot lowering musculature is impaired as well, you also benefit from the high energy return of the orthosis, which is activated during the rollover motion of the foot. You walk more naturally again.
For more information about the WalkOn Reaction please click here.