Chris' E-Mag Active Story
Biology Teacher Rediscovers His Freedom Of Movement After A Life Altering Accident In The Classroom
Chris Rodbourne was a registered nurse for twelve years and then he retrained as a biology teacher. One day whilst teaching his life would change forever after saving a pupil from hitting their head whilst fainting.
During a biology class, one of Chris' students fainted unexpectedly and thankfully due to Chris's quick thinking, he caught the student so they didn't hit their head on his desk. However, this act of heroism came at great cost after Chris fell onto his coccyx.
Following an MRI scan, it showed he had a fracture in his lower back and intervertebral disc damage. The next day he had surgery to remove the discs but couldn't have a rod to stabilise the spine due to the risk of having an exposed spinal cord. The surgeon explained to Chris "you will never be able to work again and you will be set with problems walking." So after this life altering news, Chris was forced into early retirement at just 47 years old.
After intense physiotherapy and hydrotherapy Chris regained some movement and sensation in his right leg but his sciatic nerve function was reduced and he was told he would never walk again so was signed off from his consultant. Chris has never been one to give up, "I kept persevering" and went to see the Orthotics team at Bedford hospital. Chris was prescribed with a locked Knee Ankle Foot Orthosis (KAFO). As Chris' walking improved and he became more able with the stiff legged KAFO, he found it wasn't robust enough to meet the demands of his life and required regular repairs and yearly replacements, costing his local Orthotics service up to a thousand pounds each year.
After years of going backwards and forwards to his Orthotics department, a new Orthotist joined the hospital who had recently attended a training day on the Ottobock E-MAG Active so suggested they trial this stance control KAFO.
Bedford Orthotics department applied to his local CCG for funding of the E-MAG Active and Chris received the first of the original E-MAG Active (version 1) in the UK back in 2008. His original E-MAG Active worked wonders for his ability to walk and safety with its Electro-magnetic (E-MAG) joint, allowing a safe locked knee in standing and freely flexed knee in swing phase, in a similar motion to an unaffected leg.
After years of hard and reliable work, his old E-MAG Active (version 1) was worn out and becoming too heavy for Chris to manage. He returned to the Orthotics department to see what could be done, fortunately there was a new version of his KAFO, the E-MAG Active (version 2), this was much lighter, stronger and had safety functions built in, such as prelock. If Chris put his weight on the KAFO and his knee was not fully extended the lock would kick in to ensure his knee did not give way beneath him.
Chris Rodbourne is still the only person who has continued to use an E-MAG Active since its inception and wants to encourage other hospitals to do what Bedford hospital did for him. "We've got to get it out there in the NHS," explains Chris.
Chris' new E-MAG Active included a rainbow coloured water transfer, it is now part of his life so why not show it off! Chris is now championing the prescription of this 'life changing' product in the NHS and appreciates more than anyone that money is tight in the NHS but all it takes is for one hospital to lead the way and Bedford hospital did just that with Chris. "I am just so passionate about it, I just want other authorities to do the same as what Bedford did for me", explains Chris. Not only is Chris trying to generate awareness that this is available through the NHS but also that people can buy it privately.
Chris has been using his new orthosis for the past ten months and has already noticed a big difference, it doesn't strain his back as much and has resulted in a reduction of the amount of morphine he takes. "It has been a win win situation for me," he describes. Chris utilises his remaining hip strength to swing his affected leg through and the E-MAG Active does the rest. Working in sync with his stride, to lock and unlock when required. He has fewer falls with this E-MAG Active and the safety features are far better, again saving the NHS time and money as he is in hospital a lot less.
"It makes so much difference to my life", explains Chris. "It makes mobility easier and means I am not wheelchair bound, it does a lot of the work for me." The battery and microprocessor are situated on the outer thigh in a slimline design & allows for greater clothing options. "Other products are nowhere near as robust or do as much."
Chris' advice to other patients in similar situations would be go for it and he would actively encourage all Orthotists to try it for patients who want more independence. Although in an ideal situation Chris would like to walk without crutches in the future, he can now access shops, pubs, restaurants and the E-MAG Active opens a whole new world.
This wouldn't have been possible if it wasn't for the Orthotics department at Bedford hospital and Chris can't sing their praises enough. With Chris' background he hopes to combine the science and medicine together and promote the E-MAG Active in such a way that Consultants and Physios get the message loud and clear. Their patients are worth investing in and if Bedford can manage to provide the E-MAG Active so can other authorities. Trials of the E-MAG Active can be made available for patients so they can see the benefits before their Orthotist applies for funding for the treatment. Ottobock can also provide a Dynamic Test Orthosis (DTO) which allows patients to trial the E-MAG joint mechanism in a clinic before they have a KAFO made in carbon to ensure they can function a stance control knee joint.
"If it helps someone else, pass it on, pass it on, as they say in the History boys film," pleads Chris.
---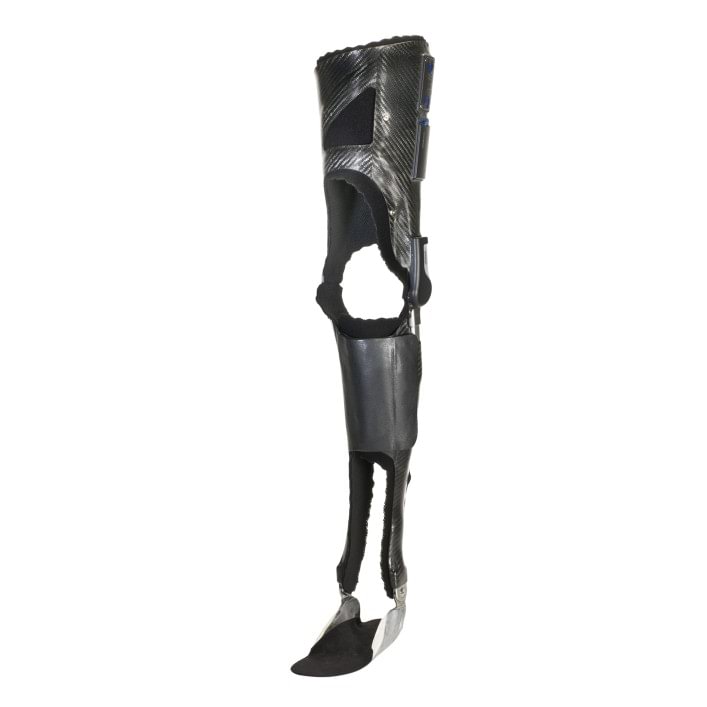 As your body changes, your walking abilities fluctuate, too. If your walking pattern or "gait" changes, the E-MAG Active can be recalibrated by your orthotist to accommodate your needs. And, unlike traditional braces, the E-MAG Active doesn't require you to lock and unlock it while walking, and and you can easily unlock it to sit down.