John's C-Brace® story
John Simpson has become the first patient in the UK to be fitted with the world's first lower-limb Orthotronic Mobility System. His high-tech C-Brace® has allowed him to walk naturally for the first time in over 40 years.
John Simpson has been unable to walk unaided since he was a young child. Polio left his nerves so damaged he was unable to support his own weight and despite multiple operations, physiotherapy and treatments, he has relied on a leg brace to help him move around since he was 14 years old.
Fitted initially with a heavy, steel caliper, he has spent the majority of his life walking with his knee fixed in place and unable to bend it whilst walking.
"For as long as I can remember, I've had to walk with a locked-knee, which is awkward, cumbersome and puts great strain on my lower back," explains John Simpson. "When something like this happens to you in life, you have two options. You either give up and ask for sympathy or you get on with things. Unfortunately sympathy doesn't last very long, so I made the decision not to let my disability get in the way of anything."
Despite his mobility difficulties, John has played golf to a high standard since his early teens – when he was taught by his father and a friend as part of his rehabilitation. John had a highly successful career as Senior Vice President of IMG, managing elite sportsmen such as Nick Faldo, Bernhard Langer, Greg Norman and Sebastian Coe and since visiting the injured military men and women at Headley Court, he has established 'On Course Foundation', a military charity that supports the recovery of wounded, injured and sick Service personnel through golf tuition and jobs in the golf industry.
"Over the years I tried new braces, supports and therapies, but nothing helped me walk and so I stuck with my original calipers. I couldn't trust the 'bent-knee' systems as I had a number of nasty falls in the early days... but that was before C-Brace. With the C-Brace I've gone from crutches to two sticks and now only one stick, and I'm still at the early stages of learning".
"Having seen the remarkable technology in the prosthetic legs of amputee On Course Foundation members, it seemed natural to me that Ottobock would bring this technology into a brace for people who still have their legs."
John has been fitted with a new Orthotronic Mobility System called C-Brace. Designed by Ottobock, manufacturers of the world's most advanced prosthetic legs, the brace has computers and sensors within the brace – enabling it to think, react and respond like a working leg.
"The brace is fantastic. I can walk naturally again, without fear that my leg will give way. I can walk with a bent knee, down stairs and the brace provides support intuitively, even when walking down slopes. I trust it."
"I'm still learning to walk again, as I've not been able to walk with a bent knee for the majority of my life, but I can already see the difference it is making. C-Brace also has the ability to programme certain 'modes' into the software, like a 'golf mode' which I can't wait to try out or 'cycling' (which I'm less likely to use!)."
The C-Brace is now available in the UK through Dorset Orthopaedic. For more information about C-Brace please click here.
---
John and his C-Brace
The new C-Brace® ‒ taking you further. The C-Brace® is the world's only orthotronic mobility system that uses sensor technology to control both the stance and swing phase. The user is supported in real time during every walking phase
Compared to walking with a locked leg brace, a stance-control orthosis is a brace that helps create a more natural stride. "Stance control" means that instead of stability coming from a locked knee joint, the brace is able to lock and unlock at just the right time while walking.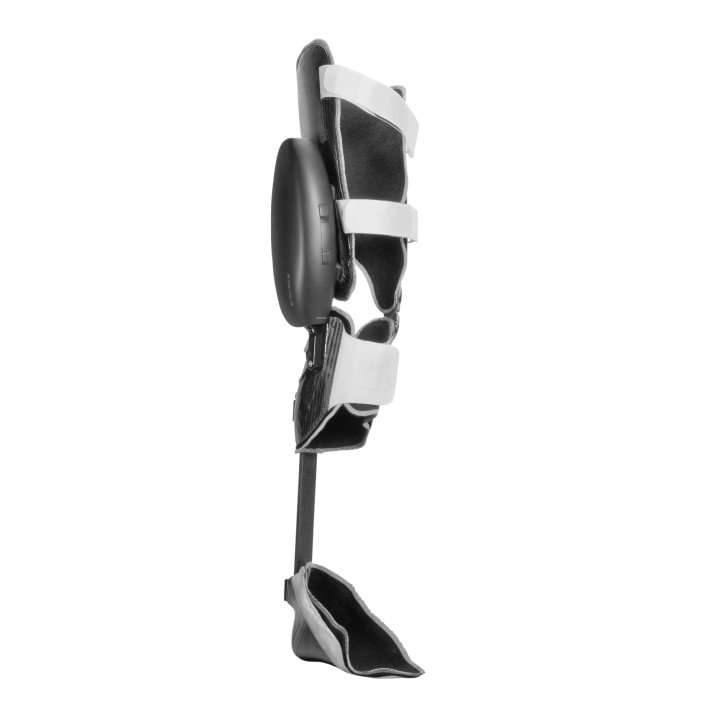 The C-Brace® Orthotronic Mobility System is an entirely new approach to walking when back injuries or leg muscle weakness limit you. Instead of a locked knee brace - or a wheelchair - imagine a system that gives you the freedom to participate in many daily activities. Walk all day, walk smoother, walk with confidence and greater safety.
For more information on the C-Brace® please click the link below.