Nicola McGlynn - L100 Go
Nicola McGlynn Is Not Going To Let Multiple Sclerosis Stop Her From Walking.
50 year old Nicola McGlynn from Edinburgh was diagnosed with Multiple Sclerosis 20 years ago and in recent years her walking started to deteriorate. She found herself getting embarrassed as she was always tripping up but thanks to Neuro Physio Scotland and her L100 Go this is no longer a problem.
For a while Nicola managed with a mechanical splint but then she progressed to an NHS Functional Electrical Stimulation (FES) System. Although it helped her to walk it took her a long time to line up the electrodes and she didn't like having wires everywhere. "It was a complete faff," said Nicola. If it wasn't for her friend who suggested she should try an Ottobock product she wouldn't have tried the L100 Go.
The Ottobock L100 Go is an FES System designed for people who suffer from drop foot, a condition which prevents you from lifting your foot and toes properly resulting in the foot dragging along the floor when walking. The electrical impulses in the FES activate the nerves responsible for lifting the foot improving the gait pattern and making it smoother and safer to walk. The L100 Go is a simple cuff that is applied to the lower leg without the need for wires and is quick to put on in the correct position.
Nicola contacted Neuro Physio Scotland (one of Ottobock's FES clinical partners) and after a slight delay due to Covid-19 she purchased an L100 Go in the summer of 2020. Nicola explains: "the overwhelming advantage to me is that the electrodes are so much easier for me to get into the right place."
Already a huge fan of the L100 Go, Nicola finds it a lot more helpful and can now walk a lot further and hardly ever trips up which she used to find very embarrassing. Despite preferring the Ottobock FES system to her previous one, she does think it was good for her to try the NHS system first before committing to pay for one privately.
Since having the L100 Go Nicola can now walk five times further than before without getting as tired. The future is now looking promising for Nicola as she continues to make amazing progress. She can look forward to the day when she doesn't have to rely on her car or bicycle to get from A to B as in the past she has been using them like a wheelchair so soon hopes to be able to walk instead.
---
---
---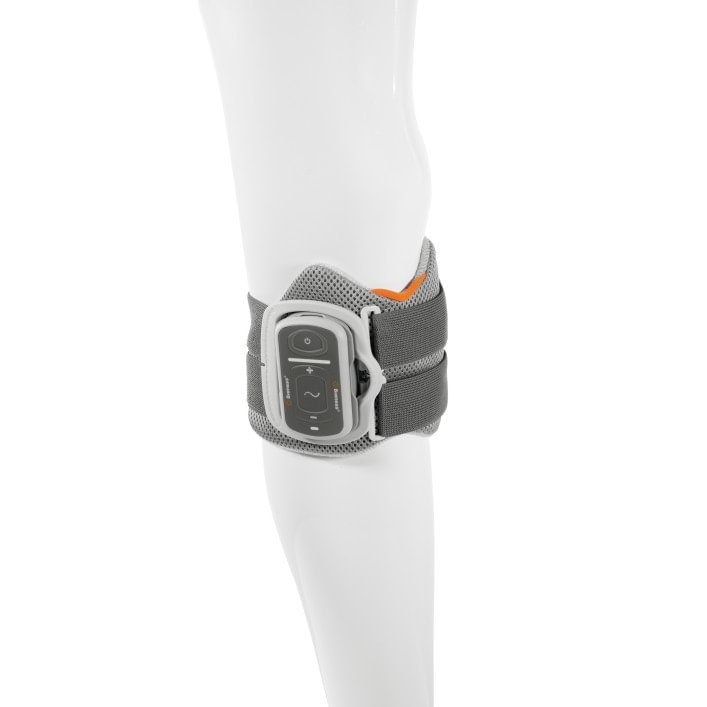 The L100 Go system was developed for people with drop foot, which can occur due to diseases of the central nervous system such as a stroke, multiple sclerosis or infantile cerebral palsy. It works on the basis of functional electrical stimulation (FES). With FES, electrical impulses activate the nerves which the central nervous system can no longer control – in this case, the nerves and thus the muscles that are responsible for lifting the foot. This improves your gait pattern, making it smoother and safer. The orthosis can also contribute to muscle rehabilitation and promote mobility in the joint as well as circulation.
The L100 Go works with just one stimulation channel.
The L100 Go consists of a cuff that is simply applied to the lower leg.
3D motion detection generates the impulse that stimulates the foot, so it lifts at exactly the right time.