Tracie Byers L300Go story
Keen Walker Defies Her Limitations, Thanks To Innovative Medical Device.
For Tracie Byers simple tasks such as going out for a walk seemed a million miles away due to her battle with Multiple Sclerosis (MS) until she discovered Functional Electrical Stimulation.
The full time Bank Analyst suffered with the side effects of MS for years, until she discovered an innovative medical device called L300 Go, distributed in the UK by Ottobock. Now, Tracie doesn't need to use a walking stick, doesn't need to plan any journeys due to stairs or lifts and feels safe outside on her own, all thanks to her device that has restored her freedom of movement.
Tracie from Edinburgh was diagnosed with MS in 2003 and in 2014 she deteriorated and lost the use of her right arm and leg. However, after intense physio and a lot of time in the gym she was able to use an NHS FES (Functional Electrical Stimulation) device. It had wires, a switch, a battery pack and electrodes which she had to manually put in exact positions. Never the less for Tracie it meant she was one step closer to reaching her goal of simply being able to walk on the beach in bare feet.
Three years later her life changed when her private physio Kenny Thoms from Neuro Physio in Glasgow suggested she tried the L300 Go FES system. It was a "game changer", said Tracie and it had the added benefit of not having a foot switch. So without hesitation Tracie upgraded her device and has used it all day, every day since.
Insert quote from Kenny.
The L300 Go is a simple lower leg cuff with one internal electrode without the need for wires, which stimulates the affected nerves and muscles following a stroke, brain injury, paralysis or those living with MS. The system is designed to lift the foot when walking, thus improving the gait pattern, making walking smoother and safer.
It only took Tracie about a week to get used to the new system and she could see the benefits straight away. Due to the cuff not having wires it means she is less self-conscious when wearing shorts and as an avid lover of shoes she is no longer restricted to a limited choice because a foot switch is not required. "It's like giving away a bit of who you are if you can't wear what you want to wear, it effects your confidence and personality." The L300 Go also stops her tripping up even on irregular surfaces, she finds walking a lot less effort so she can now walk more safely for longer with less fatigue, even on the beach!
The L300 Go has given Tracie her confidence and independence back. It takes her a lot less time to put the cuff on as she knows it is in the correct position straight away. Also planning journeys and being daunted by stairs are now a distant memory for Tracie as she now easily navigates the 30 mile commute into Edinburgh independently. "It gives you your life back," she explains.
Tracie is determined to not let MS defy her and with the help of the L300 Go she states; "it really helps MS be a small part of who you are". She hopes her story encourages others to not give up on physio and ask their clinicians to explain all treatment options available, including privately funded products. If all possibilities were discussed with her when she was first told to try an NHS FES device she would have paid for the L300 Go without hesitation.
Now thanks to her Ottobock FES device, Tracie can tick off walking on the beach but she is continuing with physio every day to help her towards her next goal of being able to go swimming on her own. Once pools are open again of course!
---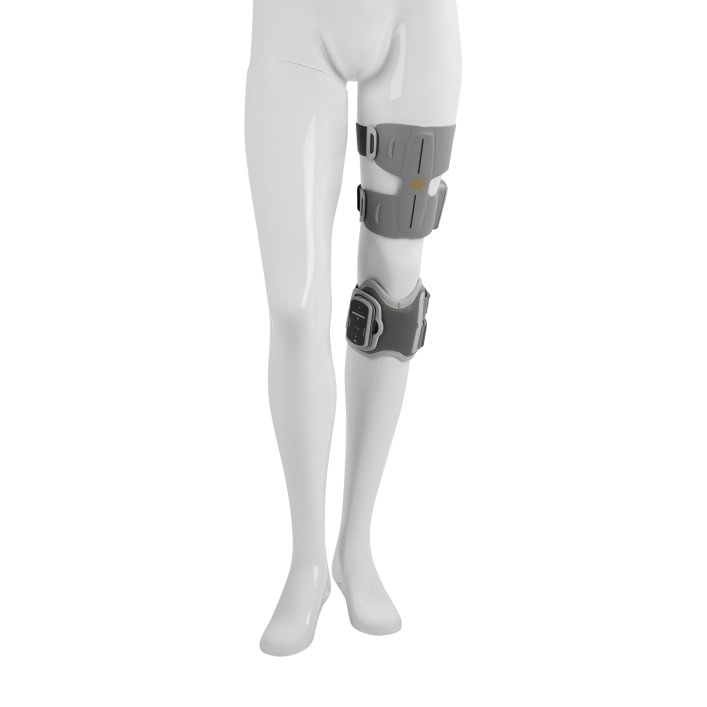 People who have suffered a stroke or brain injury, or are living with conditions such as MS, or incomplete paralysis often experience drop foot which can inhibit their ability to walk.
The L300 Go system is designed to lift your foot as you walk, thus improving your gait pattern, making it smoother and safer. This device can also be used for knee instability and promotes muscle rehabilitation.
The L300 Go stimulates the affected nerves and the muscles that they control, and can therefore initiate dorsiflexion as well as knee flexion/extension. This has proven to enhance the individual's ability to walk unaided and therefore enjoy higher level of independence.
Innovative technologies such as a new learning algorithm and high-grade movement sensors ensure a more dynamic gait.
The functional system promotes muscle rehabilitation, mobility in the joint and circulation
The surface stimulator and a thigh cuff allow the knee to be stabilised