Prostheses for Veterans
Veterans' Prosthetic Panel
Veterans who have lost a limb whilst in military service or whose limb loss is attributable to an injury sustained whilst in service qualify for funding for their prostheses. Funding requests go through the Veterans' Prosthetics Panel (VPP) which was established in 2012 and is an excellent way of ensuring that veterans can access high quality prostheses regardless of which Disablement Service Centre (DSC) they attend.
Continue to be your best, with the best
Ottobock was founded in 1919 to help those wounded in WWI get back to everyday life. Since then, we've maintained close relationships with veterans to research, develop and distribute advanced technology specifically suited to the needs of injured veterans.
Not only do we provide the best prosthetic devices to veterans but we also work alongside BLESMA who offer the best advice and support for limbless veterans. Find out more about this amazing charity here https://blesma.org/
Are you a veteran using an Ottobock prosthesis?
We want to ensure every veteran continues to get the very best in prosthetic technology, so we need your help! Whether you still use your original Ottobock prostheses or have recently received new ones, we would love to hear your story and how your life has changed since 2012. Do you want to be involved in our veteran photo and video shoot and star in our next marketing campaign? Simply email bockuk@ottobock.com with your name and contact number and we'll be in touch.
#TheBestContinued
---
---
What you need to know
Ottobock prostheses
All types of prostheses are available to veterans. Here is a selection of our popular Ottobock prostheses.
Limb combinations
Be the best, with the best limb combinations from Ottobock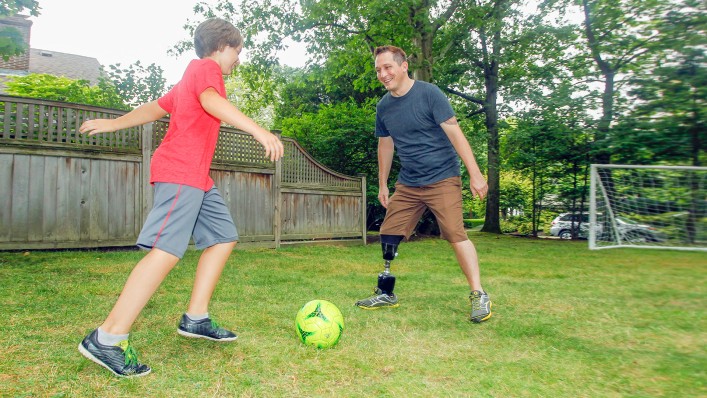 Genium with Empower
Based on human movement as the model, the Genium has been developed even further since its launch in 2011. The result is a noticeably smoother gait and even better support and safety in everyday situations, for instance on ramps, in confined spaces or when changing walking speeds. When combined with Empower, the only powered propulsion foot available, you end up with a powerful intiuitive solution.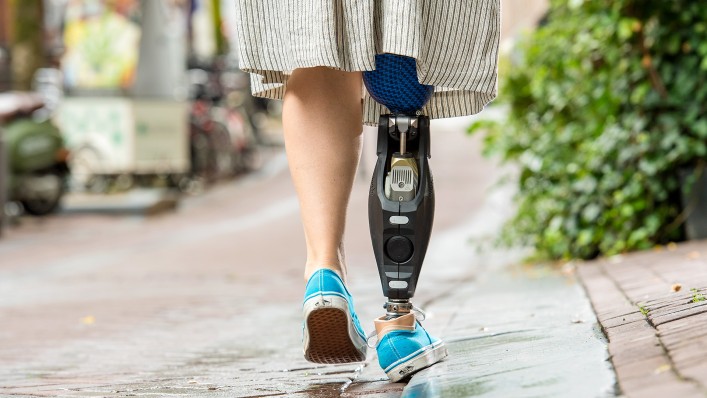 Genium X3 with Triton side flex
With the Triton side flex, we have developed a prosthetic foot that provides extraordinary side-to-side flexibility and when combined with Genium X3, offers the ideal agile solution for active amputees.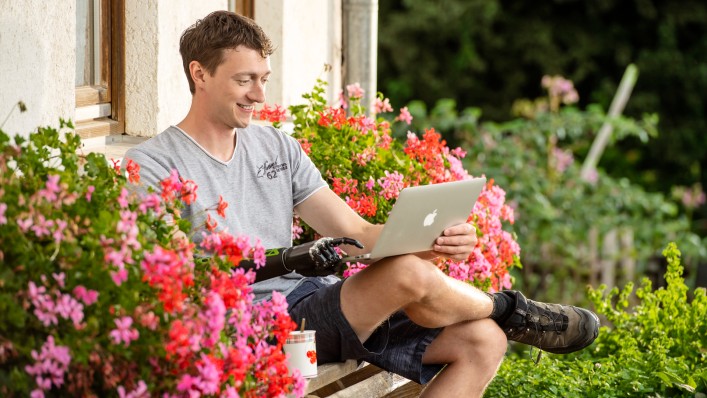 Myo Plus with bebionic Hand
Myo Plus makes it possible to utilise the prosthesis control functions in a unique and entirely natural manner. When combined with the bebionic hand, it an advanced mind controlled upper limb solution.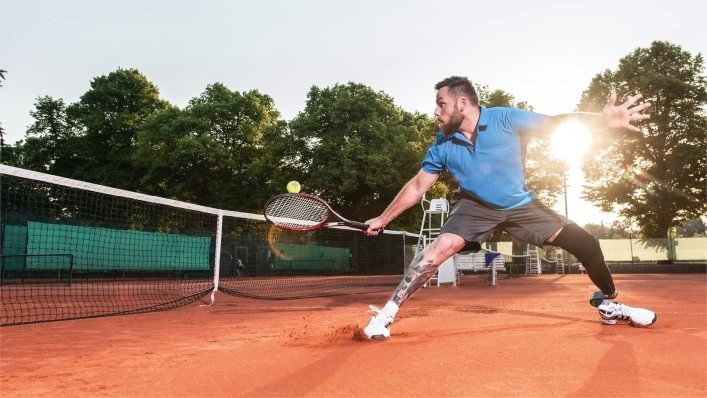 Sportsline with QuickChange
The Challenger is the ultimate fitness foot for amputees wishing to take part in high-activity sports at both beginner and professional levels. Whether playing basketball, badminton, netball, hockey or football the Challenger's added stability and excellent control during rapid movement lends itself to high-impact team sports. The Challenger's superb shock absorption and energy return enables comfortable yet fast movements for field, court and running sports. Plus it's waterproof and has a weight limit of 90kg. By combining with the QuickChange adaptor, amputees can change from sports to everyday feet as easily as putting on shoes.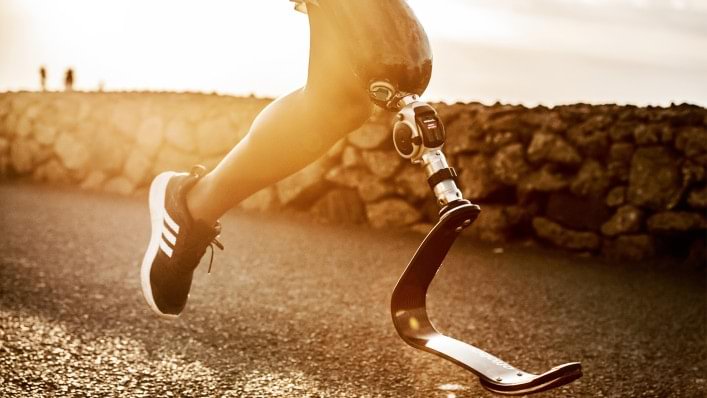 Runner blade with QuickChange
Whether it is used for recreational jogging or competitive running, the Runner 1E91 perfectly serves the needs of amputees with athletic ambition – from beginner to high performance levels. When combined with QuickChange, changing from sports to everyday feet is as easy putting on shoes
Getting your limb solutions
A centralised fund is available through the NHS and administered by the Veterans Prosthetic Panel (VPP). It was created to help support veterans who were injured while serving their country. This fund covers the cost of any prostheses that meet your clinical needs and this includes anything from new sockets, liners and componentry such as Genium or Genium X3.
Once you have been to see your prosthetist and your clinical needs agreed, your prosthetist will process your application for funding and pending approval, will arrange a convenient fitting date for you to get you new limb solutions and continue to be the best with the best.
The great news is, veteran funding can be accessed repeatedly as your prostheses age and the warranties expire.
To find out more about veteran funding, visit https://www.england.nhs.uk/commissioning/armed-forces/veterans-prosthetics/
Veteran Blog
What is the VPP?
The Veterans Prosthetic Programme (VPP) was set up to put into practice the key findings of 'A better deal for military amputees', a report by Dr Andrew Murrison MP. What this resulted in was a small number of multidisciplinary centres being tasked with the privilege of providing specialist prosthetic and rehabilitation services to ensure that veterans have access to high-quality care similar to that provided by the armed forces. This program was established in 2012 so that veterans could apply for funding for high-quality prosthetic limbs, regardless of which Disablement Services Centre (DSC) they attend. The big question…who qualifies for the VPP funding for prosthetics? The funding is only available to veterans who have lost a limb during military service or who have left military service, but whose limb loss is attributable to an injury sustained within service.
The process for accessing the funding is as follows:
The DSC will assess the veteran and complete the VPP application form and checklist.
The Veterans Prosthetic Panel then review the funding request, give approval or seek further information.
The Panel will then give permission to the DSC to proceed with treatment.
What are the main benefits of the Genium & Genium X3?
Whilst the sensor technologies built within the Genium & Genium X3 are extremely complex, the end goal is simple – ensuring consistency throughout the entirety of the gait cycle, while not only providing safety within every step but also optimising the end users dynamic mobility. The adaptive nature of these microprocessor knee joints (MPKs) means that they are able to accommodate and adjust to changes within the gait cycle in real-time. What this means is that when footwear is changed, terrain alters or walking speeds vary, the Genium and Genium X3 adapt instantaneously.
The features that end users are able to benefit most from are:
Optimized Physiological Gait – a catch all phrase for many sub-functions built within the MPK, all working together to deliver a natural, energy efficient and harmonious gait pattern.
Adaptive Swing Phase Control – this ensures the knee is always there for the user. It automatically adapts to walking speeds to precision accuracy. Even allowing users to run.
Adaptive Yielding Control – the resistance used for descending slopes and stairs will adapt to increased weight so carrying shopping, rucksack or a child the knee will feel consistent every time.
Intuitive Stance – one of the best features of Ottobock MPKs in general. This allows the user to fully weight bear through the prosthesis when in a flexed (bent) position. It's great for offloading their lower back and contralateral limb.
Walk up stairs step-over-step – the integrated sensor package within the Genium and Genium X3 allows end users to walk up stairs step-over-step, setting their own pace.
IP rating – ingress protection ratings are commonly applied to a lot of the electronic devices we come in contact with in today's world. The first number relates to dust and small particles, the second to liquids. One of the biggest differentiating factors between Genium (IP67) and Genium X3 (IP68) is their IP ratings. The Genium X3 is fully dustproof, waterproof and corrosion resistant against salt and chlorinated water, while the Genium is only protected from splashing water, dust or dirt.
Stumble recovery – The improved Stumble Recovery has seen the Genium and Genium X3 continue to deliver the upmost of safety to end users throughout those inevitable occasions where a stumble occurs. The entire swing phase is covered with increased resistance designed to catch the user and prevent a fall.
Optional increase in stability for slopes and standing – the recent upgrade has allowed for greater customisation especially for bi-lateral users and users requiring more stability.
MyModes Plus – This allows total customisation of the knee behaviour for specific activities. 5 MyModes can be programmed and can include Cycling, Brake Knee, Flexed Standing and many more.
Cockpit app, now available for both Android and Apple, the Genium and Genium X3 strengthens the options available to end users for improved outcomes. It's never been easier to interchange between the MyModes, as well as allowing the end user to check the battery level, view step counts and make adjustments to the knee settings.
MyOttobock – this new addition to the cockpit app allows for the connectivity of an activity tracker built into the knee.
The Genium X3 is the most durable, intuitive and technologically advanced microprocessor knee on the market. With features that support activities like running, swimming and ascending stairs step-over-step, the X3 supports individuals who push the boundaries of mobility.
Other products which have been funded through the VPP:
When it is time to renew out of warranty prosthetic componentry, it's a great opportunity for end users and clinicians to consider the possibility of upgrading from the current prescription in place. Many veterans have already been upgraded from a Genium to a Genium X3, as the Genium X3 wasn't available when they first encountered their initial prosthetic provision some years ago. It's also been common for clinicians to utilise this stage to formulate a new prescription regarding feet and other componentry. Below are examples of upgrades Ottobock have seen approved by the VPP in recent times that have allowed for further improvements in overall mobility and quality of life outcomes.
Feet:
Taleo 1C50: Suited to active individuals (K3 activity level) who navigate varied indoor & outdoor environments and place a high value on effortless walking and the ability to go wherever life takes them. Features include:
Smooth rollover due to no dead spots and easy rollover from heel strike to toe off.
Energy efficient walking that returns the energy suited to every varying step.
Terrain conformance to navigate on uneven and rising terrain safely and comfortably.
Waterproof incl. salt and chlorine water
Drainage holes in footshell
User weight limit up to 150kg / 330 lbs.
Triton side flex 1C68:
The Triton side flex was designed for active individuals (K3-K4) who navigate varied indoor and outdoor environments, and place a high value on uncompromised response and control even when performing high-impact activities.
Features include:
Unique side-to-side flexibility of +/- 10° for immediate and full-ground contact while walking and standing, including on uneven surfaces.
An interconnected, linear spring design provides the level of mid-stance support needed for activities where responsiveness is essential.
For users with limited clearance/build height.
Waterproof incl. salt and chlorine water.
Robust and maintenance-free technology.
Suitable for a broad range of application, from everyday life to demanding professions and even leisure sports
Challenger 1E95: The Challenger is a multi-purpose foot developed for the varying demands from everyday walking to recreational sports. High deflection of the curved main spring along with the shock absorbing wedge unit provides excellent vertical shock absorption, which is desired for court sports like tennis or basketball, and energy return for activities such as sprinting and long distance running.
The base spring and interchangeable Vertical Shock Heel wedge unit allows for stability and control during rapid movements, while walking and standing.
Features include:
Two Vertical Shock Heel wedges for different functional dynamics included (total of 4 stiffness's of vertical shock wedge units available).
No footshell required for more secure fit in shoe.
Waterproof incl. salt and chlorine water.
Shoehorn included to simplify changing shoes.
Shock absorption and energy return for dynamic performance.
Stable standing and walking due to base spring.
Microprocessor Feet:
Meridium 1B1: Where conventional mechanical prosthetic feet have always represented a compromise between flexibility and stability, electronically controlled ankle joints have until now enabled primarily slight, gradual adjustments to the user's current gait behaviour. The Meridium is completely different, featuring an impressive range of advantages that offer the user a significantly more precise adjustment to the current situation. As a result, the user feels extremely safe and enjoys a more natural pattern of movement.
Features include:
Intelligent, real-time control.
36.5 degrees range of motion.
4-axis design adjusts itself immediately to the user's walking speed and ground conditions, whether on slopes, stairs or varying terrain.
Improved ground clearance.
Empower 1A1-2: The Empower is an innovation in the field of prosthetic feet. It is equipped with an active ankle joint, making it the only prosthetic foot with powered propulsion.
Features include:
Emulates the function and power of lost muscles and tendons in the anatomical foot.
Provides energy instead of taking it away – even up ramps, hills and stairs.
Life-like ankle movement that normalises users walking gait.
Clinically proven features including reduced joint forces which may reduce knee and lower back pain.
Adjusts ankle power, resistance, and flexion in real time.
Provides balance on variable terrain.
The latest Empower now has a Taleo Low Profile base spring for smooth rollover and optimal adaptation to varying ground conditions.
When it comes to additional components that go hand-in-hand when upgrading prosthetic prescription, the below stand out above all the rest when we're concerned about providing even further adjustability and independence for end users.
Quickchange Adapter 4R10=111: This lightweight, low profile and waterproof component allows the user to easily and quickly remove the foot from the prosthesis or be able to switch to a secondary foot for specialty applications, such as but not limited to shower feet, swim feet, sports feet, different heel height shoes, etc. Removing the foot can also help in tight situations or when changing clothes. The self-aligning design allows the user to change components without affecting alignment.
Rotation Adapter 4R57=WR: A must have waterproof component that fits above-the-knee to allow the flexed lower leg to be easily rotated out of the way. The rotation adapter makes everyday activities like driving a car, sitting at an office desk, putting on socks and shoes, or even checking on the battery status of your MPK effortless.
What are the biggest differences you've seen in patient outcomes?
When I think about improved outcomes, those who have seen the biggest benefits from being fitted with Genium and Genium X3 knees are bilateral end users. To witness their strength and resilience first hand is awe-inspiring. The progression from walking on stubbies, to living life to the absolute fullest on their MPKs is nothing short of a miracle. Over time, and after experience on their new legs, this group of end users really take it to a new level – walking on all types of terrain at varied speeds, it takes courage and confidence in the prosthesis to achieve this. The cohort of end users also have the ability of taking full advantage of the range of prosthetic feet options available – everyday microprocessor feet through to waterproof carbon fibre. Through the use of the waterproof Quickchange adapter, they can easily interchange between what feet they need for the next activity they're to conquer, independent of needing to worry about alignment changes.
What would your message be to Veterans who use prostheses?
If you're a veteran whose Genium or Genium X3 is coming to the end of its 6 year warranty, act now! Make contact with your prosthetist or DSC and get the ball rolling for your new upgraded prescription. You deserve the BEST! The Ottobock UK Academy is here to support end users and clinicians throughout the entire process to ensure that optimum results are maintained and achieved.
What would your message be to Clinicians who look after Veterans?
For clinicians – prosthetists and physiotherapists, the Ottobock UK Academy is here to not only certify clinicians in the use of these incredible cutting edge prosthetic components but also available to attend to provide update trainings, assisted fittings and user gait training. We're always only a phone call or email away!
---
Accessories