C-Leg 4: Microprocessor Knee
Reclaim your determination
---
Real life stories from C-Leg users
---
---
Benefits at a glance
More freedom of movement
Movement patterns are considerably easier for C-Leg 4users, even on varying surfaces such as sand, grass or gravel. The flow of smaller step sequences and the user's gait pattern when changing walking speeds are controlled more smoothly. Even if you have never worn a C-Leg 4 before, this technology typically makes the adjustment period quite short.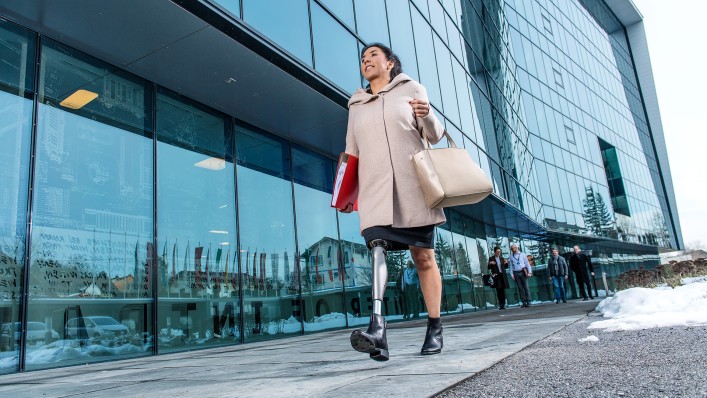 Greater mobility
Fluid movements occur first and foremost when the prosthesis responds quickly to different everyday situations. The resistance of the C-Leg 4 microprocessor knee adapts to all walking situations in real time, whether on level ground, stairs, ramps or varying surfaces. This gives you a noticeably smoother and more reliable movement pattern as well as more energy.
Select the stance function yourself
The C-Leg 4 supports you when standing. Using a discreet movement pattern, you can assume a relaxed position with a slightly flexed knee. You might already be familiar with this function. It is especially comfortable on slopes and uneven surfaces. A new feature of the C-Leg 4 is that your prosthetist can also set the intuitive stance function at your request. With this function, the joint is able to detect from your movement when you'd like to stand in a relaxed position or when you need support for your next step.
Stumble recovery for enhanced safety
Safety has always come first with the C-Leg 4. A large number of studies have proven that the frequency of falls in people with a transfemoral amputation is significantly lower with the C-Leg 4 in comparison to conventional prostheses. This makes the C-Leg 4 one of the most reliable MPKs in the world. Scientific studies show that this increases confidence in the prosthesis and that users pay greater attention to their surroundings. We've taken the stumble recovery of the C-Leg 4 to a new level, making it even more precise and offering even greater stability.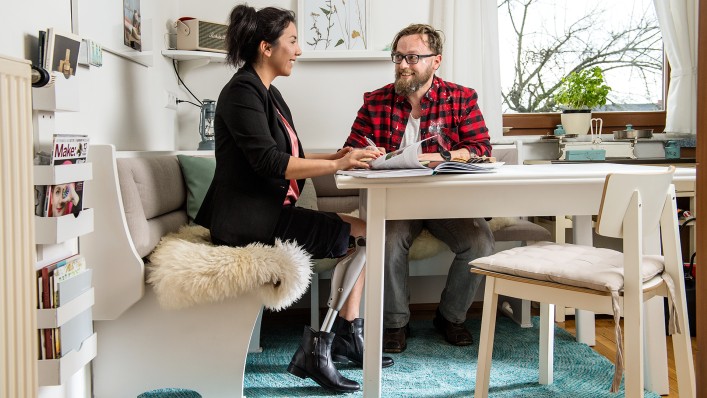 Comfortable sitting
The automatic sitting function provides you with crucial support. The free-swinging joint provides a relaxed and comfortable sitting position.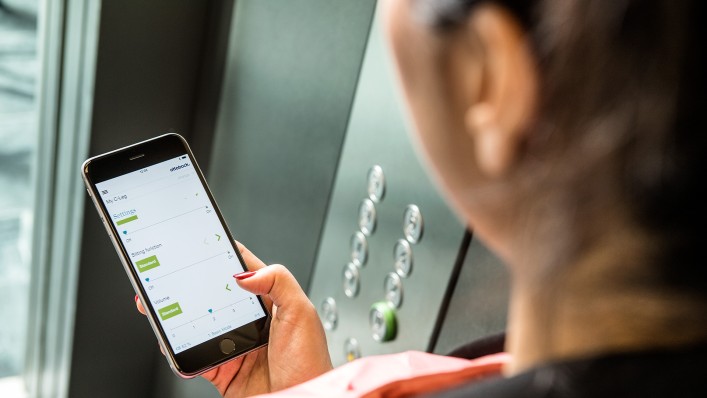 Smart control via app
The Cockpit app lets you operate the C-Leg 4 directly using your smartphone (Android or iOS) and access information about the C-Leg 4, such as the battery charge level. The C-Leg 4 communicates with the app via integrated Bluetooth®.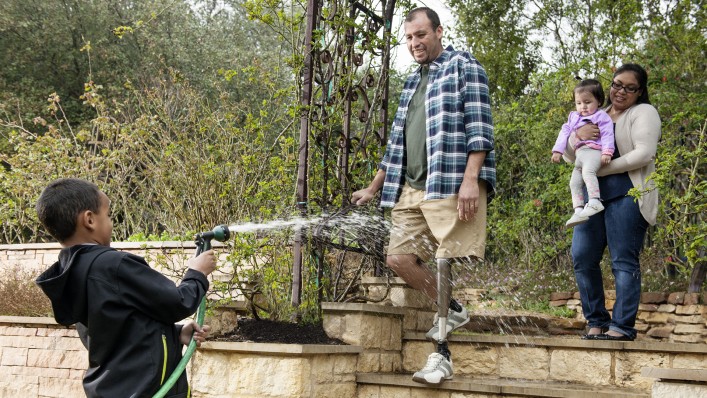 Wet or dry
The weatherproof C-Leg 4 is rated to IP67. This rating means the C-Leg 4 is protected from damage due to incidental contact such as a downpour or temporary submersion in fresh water up to one metre for thirty minutes. Now everyday activities such as washing the car or watering your garden are no longer a concern.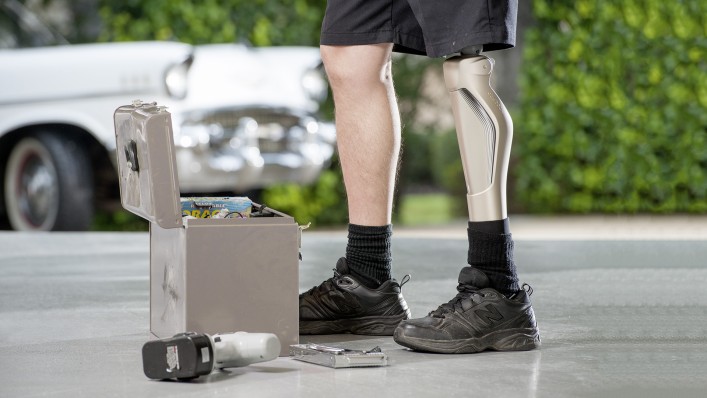 Protection and attractive design
The C-Leg 4 protective cover shields the prosthesis against impacts, environmental influences and wear and tear. It consists of a robust main protective cover component, a selectable shield insert for the front side, as well as a protector foot cuff. The protective cover also gives the C-Leg 4 a natural volume under long clothing.
Proven by studies
The C-Leg 4 is the most frequently fitted and most often studied MPK in its class. Users around the world trust the C-Leg 4 because it helps them lead an independent and self-determined life.
Download the studies in our Downloads Tab above.
Functionality
Intelligent System
The C-Leg 4 technology provides intelligent control of the MPK for people with transfemoral, knee disarticulation and hip disarticulation amputations and adapts it to their gait pattern in real time. Behind this is a complex sensor system that captures data in real time and recognises which phase of walking you are in. Whether you are on level ground, going down stairs step-over-step, on slopes, or on difficult surfaces such as forest floor, sand and gravel. This makes the C-Leg 4 one of the most reliable microprocessor knees available. Thanks to the C-Leg 4's capacity to adjust itself, the user can also master small obstacles, unclear terrain or large crowds.
Technical Info
C-Leg 4 specifications
Highly stable yet lightweight carbon fibre frame
Patient weight: Max. 300 lbs/136 kg*
Weight of the knee joint only: about 2.8 lbs / 1,235 g
Height of the knee joint with adapter: between 11.2 inches / 28 cm and 21 inches / 53 cm (with torsion adapter)
Adjustable activity modes: 2
Operating time with fully charged battery: 40 to 45 hours
Maximum possible knee flexion angle without flexion stop: 130°
*All components of your prosthesis must be appropriately rated to reach this weight limit. See your prosthetist for specifics.
Downloads
C-Leg 4: User brochure
Download our latest C-Leg 4 brochure for end-users.
NHS MPK Policy Patient Guide
C-Leg 4 is now available on the NHS. Download our guide to the NHS MPK policy and learn more about C-Leg and what is available through the NHS.
C-Leg 4: Clinical Evidence
Download our C-Leg 4: Clinical Evidence brochure. C-Leg is the most widely used and studied microprocessor-controlled knee on the market.
---
Accessories
---
Similar products