Alan's story - Genium X3
Flying Star Alan Has The Long Term In Mind With Ottobock Genium X3
An RAF technician and member of the UK's first disabled flying display team says he has an active and healthy future ahead thanks to his Ottobock Genium X3 microprocessor knee.
Sgt Alan Robinson, 40, from Lincolnshire, lost his leg above the knee around seven years ago following a motorcycle accident. While recovering at Hedley Court — the rehabilitation centre for injured servicemen — he was told his career in the RAF could be over. But Alan was determined not to leave the force and with the support of his squadron was able to return. He now has around 20 years of service on his record, and currently works as ground crew for the E-3D Sentry fleet at RAF Waddington, in Lincoln.
For several years he maintained his career and family life with a mechanical knee, and refused to let his injury stop him from pursuing his dreams to fly aircraft — taking his first lesson just days after getting his first prosthesis, and soon after gaining a prestigious Spitfire Scholarship for injured servicemen, funded by the Royal Foundation's Endeavour Fund. In 2016 he became the first amputee since Sir Douglas Bader in 1946, to fly a Spitfire solo.
It was during this time he was offered the chance to trial the Genium X3 — the world's most technologically advanced microprocessor knee (MPK) — and he hasn't looked back.
He said: "The Genium X3 offers a lot of stability and in particular I like that I can go upstairs normally as well as downstairs, which other MPKs can't do. I can keep up with my two young sons and because it's working with me I don't put extra strain on my other leg. I'm fairly young and I am looking for longevity, something that will keep me fit and active for longer, and the Genium X3 does that."
At around the same time Alan was fitted with his Genium X3, he got an e-mail newsletter from the charity, Aerobility, asking for candidates for a disabled flying team.
"I had just finished doing the Spitfire Scholarship, and then this e-mail came asking for pilots to try out for the display team. It felt like it was meant to be," said Alan, who flies alongside team captain Mike Wildeman and team-mate Barry Hobkirk. "It's been fantastic so far, and we're all training regularly to get fine-tuned for next year's displays. I'm very excited about what is to come, and I feel so lucky to have been in the right place at the right time for all the amazing opportunities I've had."
For more information about the Genium X3 click here.
---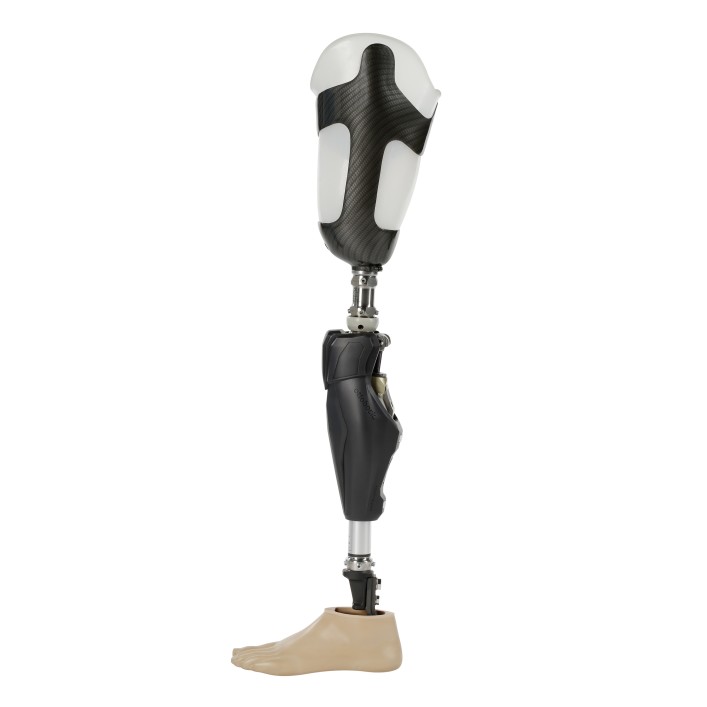 The result of a collaboration between the US military and Ottobock, the Genium X3 is quite simply the world's most technologically advanced microprocessor prosthetic leg.
If you have a challenging or adventurous lifestyle, or simply want to keep up with everyday activities such as showering, hiking or running to catch a bus without having to worry, then the Genium X3 could be the perfect fit for you.