Geoff's Kenevo Story
Geoff lost his right leg in 2014 in a tragic motorcycle accident whilst on his way home.
Geoff lost his right leg in 2014 in a tragic motorcycle accident whilst on his way home. He has since regained his ability to walk using a new technologically advanced prosthetic leg called Kenevo and is getting back to the life he has enjoyed for so many years.
Geoff Blower, from Rayleigh, Essex, had been visiting friends and was on his motorcycle travelling home as he had done so many times before, when a car collided with him resulting in devastating injuries to his right leg.
The former motorcycle racer, 76 was thrown eight metres into metal railings and sustained serious injuries leading to his right leg being amputated above the knee. "I remember seeing myself flying through the air, face down with my legs straight out behind me", said Geoff.
Geoff had enjoyed a full and busy life of motorcycle racing, free water swimming, cycling, bird counting, windsurfing and gardening until the accident took it all away. He was taken straight to hospital and it was unclear whether he would survive. Now twelve months on, he has gone through a period of rehabilitation with Richard Nieveen's team at ProActive Prosthetics and is using one of the worlds most advanced microprocessor knees.
"During my rehab, I initially used a mechanical prosthetic knee for 3 months. I am now using an Ottobock Kenevo, which makes me feel a lot safer and reduces my risk of falling. It has also given me a lot more confidence and the chance to try to carry on normal activities such as spending time with my family and enjoying my garden where I grow my own vegetables", said Geoff
The Kenevo has five revolutionary functions which are permanently activated. The knee offers enhanced safety at all times and reduces the risk of falling; controlled support for sitting down and standing up; a bespoke wheelchair feature and new technology for standing still. In addition to these functions, the knee can be further tailored to the individual and offers three main 'pre-selected' modes designed to suit the lifestyle, mobility and needs of the individual. These modes can be changed and adapted as required in line with mobility improvement or decline.
Geoff has two children and three grandchildren and can now spend time with them out and about and is also looking forward to getting mobile without means of support.
"The main advice I can give others in similar situations is to remain positive throughout and trust the lovely people that will look after you. Always try to look on the bright side and take the good with the bad".
---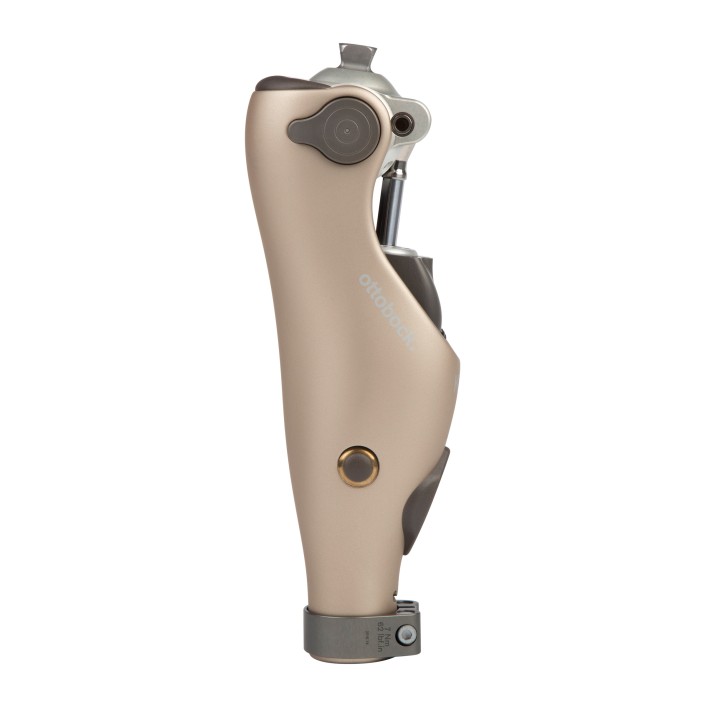 Walking for the first time on a prosthesis means building trust step by step. This also applies if you are using other aids such as a walking stick or less active. Only when confidence is growing in the prosthesis system, you become more flexible and independent, for example, from the help of relatives.
Therefore, the Kenevo focuses clearly on safety. The knee joint is the world's first fitting solution of the latest technology specifically for the needs of less active people - as a leg prosthesis the Kenevo sets a new global standard. With its special basic functions it provides support in typical everyday situations. Moreover, the activity modes provide high adaptability. The Kenevo grows with your skills, for example during rehabilitation, and adapts itself equally well for a decreasing amount of mobility.