Darren's Genium X3 Story
Darren, aged 37, is the first UK civilian to have been fitted with the revolutionary Genium X3 by Dorset Orthopaedic. Originally developed for injured US and UK troops returning from Afghanistan, Ottobock's Genium X3 is a microprocessor controlled knee, is waterproof and completely submersible, making it one of the most versatile and durable prosthetics in the world.
Dorset Orthopaedic have recently provided Darren with this ground-breaking prosthesis from Ottobock. Darren became a through knee amputee, after a motorcycle accident in 2007 and was referred to Dorset Orthopaedic through his solicitor. Dorset Orthopaedic continuously pushes the boundaries of innovation and provides their clients with the most revolutionary technology available in the industry.
With a young son of 21 months old, Darren was the perfect candidate for such an advanced prosthesis that allows him to maintain an active and varied lifestyle.
"With the Genium X3I now have much more confidence to rush forward and pick up my baby boy as the Genium X3 gives me greater stability. I have more trust in the prosthesis supporting me. It is nice to be able to keep up with my son and run after him when he tries to run away as toddlers do!" Dorset Orthopaedic Prosthetist, Matthew Hughes, explains the functionality of the Genium X3;
"The Genium X3 gives patients more freedom to do whatever they want. Having a microprocessor knee joint that is waterproof is a massive step forward in innovation and to what our patients can now do with their prostheses. We have always been slightly limited before, as you have to be so careful with a microprocessor knee, but now it is so much more durable and useable.
It is like the SAS of the prosthetic leg world! It will be a revolution for a lot of patients and it is very exciting for me to be fitting the first civilian unit in the UK!"
Originally fitted with the standard Genium, Darren was worried about getting it wet or dirty. However the Genium X3 is completely waterproof and also boasts a number of features over and above any other prosthetic knee available worldwide.
The Genium X3 microprocessor reads and records the user's movement as data at an amazing 100 times a second. It converts that data into adjustments that control the hydraulics, which regulate the movement of the prosthesis, depending on what the user is doing such as walking, running or walking down stairs. This intelligent technology allows Darren to walk normally without having to worry about his surrounding environment.
Matthew comments on the other product features; "As well as an intuitive stance to offer the security of a fully stabilised knee, it has 5 programmable activity modes and a useful silent mode. The Genium can be noisy at times but now you have the option to control this, which is great if you're in a meeting or somewhere quiet. The Genium X3 also has a 'walk-to-run' mode which gives the user the ability to go from walking into jogging naturally – yet another function that increases the users freedom."
Previously Darren couldn't be as mobile with a non-waterproof leg. The Genium X3 gives him maximum functionality so that he has the flexibility to do what he wants, when he wants. Darren is also a keen fisher and will now be able to stand in shallow water whilst enjoying his hobby.
"I want to be able to go on day-to-day walks with my family to the beach, rivers and streams without having to worry about my prosthesis. With the new leg I will be able to follow my son into water without even thinking about it. I also like to keep active. As well as going to the gym regularly, I plan to take up other sports like kayaking, which is something I didn't think about before my amputation. But now I'm really keen to try it again to prove to myself I can still do it and set myself a challenge. I couldn't really think about kayaking again if I didn't have the Genium X3."
Despite his accident Darren is still keen to get back on his motorcycle and feels that the Genium X3 will give him the confidence to get back on a bike. He enjoys travelling as far as Europe to watch motorbike events and the Genium X3 will save the worry about wet weather conditions or balancing when standing on rough ground.
Darren is also flying to Spain in 2 weeks on a family holiday and will be wearing his Genium X3. This is the first time he will only need to take one leg on holiday as he can now go into the pool or sea without having to change to his water activity leg;
"I'm most looking forward to be being able to walk in and out of the sea at my leisure and without having to change into another prosthesis – it also saves room on baggage allowance! I went on holiday to Turkey last year with my family and felt frustrated and left out that I couldn't go in the sea with my son. With my new leg I can run, splash around and have fun with my family and chase my son into the sea without giving it a second thought."
---
Are you a new amputee? Or just looking for useful advice and information? Check out our Info for Amputees section.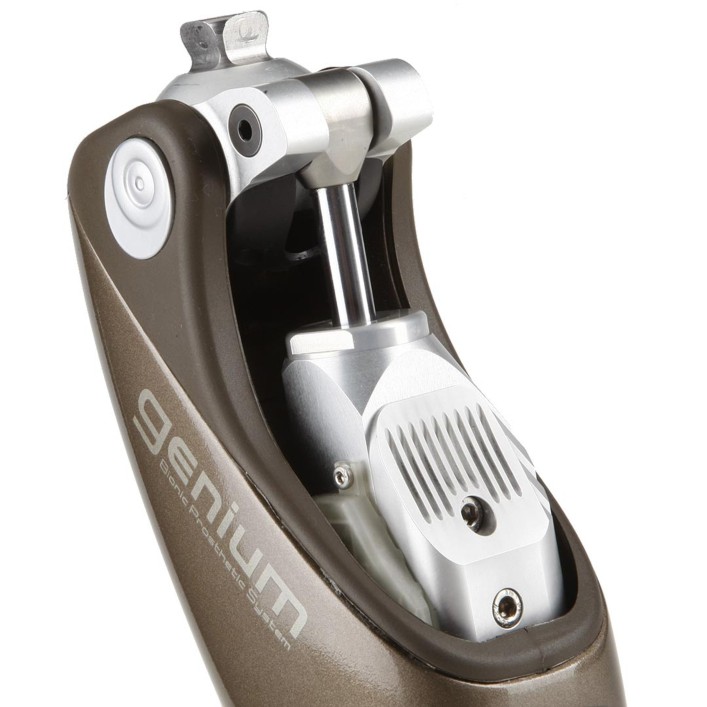 Prosthetic knees are designed for people who have amputations above their knee, and thus lack the knee joint and lower leg - find out more.
---