Bernie's story
The unlikely wheelchair journey of Bernie Green
One Thursday in May a man called Bernie Green left his house and his life changed. The day was significant for him for two reasons. Firstly because he hadn't left his house independently in a couple of years and secondly, because in doing so he was able to cast a vote in the 2015 General Election – a democratic right he had not exercised in a number of years.
"Thursday the 7th May was the election polling day," explains Bernie Green. "Our polling station was in the local village hall which is a round trip of about half a mile. My wife and I had decided that we would go when she got home from work but at lunch time I suddenly decided that as the weather was good there was no reason that I could not just go myself. After all, I now have the means to be a bit more independent with my new wheelchair and so I decided to be spontaneous as well. Even though my PA came with me, just to keep an eye on me for safety reasons you understand, I was amazed at how much this simple act was going to affect me emotionally. When we first left the house I used the chin controls until we got up to the main road which is when I realised with the cars rushing past me that there was still this big wide world out here and that I had not experienced it for a while which shook me a bit, not quite the big brave macho man I thought I was. Karen my PA used the rear control for a while whilst we were on the pavement with the cars rushing towards me allowing me to gather myself. I guess after my nerve and confidence had returned I told Karen that I would now take over. We continued up the path turning off into a housing estate which has an underpass allowing us to cross to the other side of the road.'
'I was able to use this time and space to explore a little more with the controls and speeds and we reached our goal with me still grinning from ear to ear, I am sure the staff in the polling station must have thought I was mad. Even entering the building was made much easier simply because Karen could just open the door and allow me in rather than trying to do two things at once. Deed done the return journey was the reverse but this time I decided to stay within the housing estate which had a dead end road running parallel to the main road and so I decided to stay on the road and play with speed settings and how they affected me and the chair. One very simple thing amused me and that was the fact that for the very first time I could hear footsteps trotting along behind me and then a voice saying, "I can't keep up, I will catch up with you at the end of the road". I did discover quite quickly that the road was a little bumpy for speed five as at one point I got what I can only describe as a tank slapper, the motor cyclist amongst you would know what I mean. Brief moment of excitement over I went back to speed four and then at the end of the road waited for Karen to catch up before easily getting back to the house via footpaths.'
'It may well be a very small thing to many people but actually getting out and doing and experiencing what I did gave me a fantastic feeling of achievement, I feel that in that time my life changed significantly for the better thanks to the team at Recare and the Ottobock B500 wheelchair technology. I know there is still some tweaking to be done and many things for me to learn and get used to but once again a big thank you."
Bernie drives an Ottobock B500 wheelchair supplied by Recare in Oxfordshire. Available in five different designs, all B500 models feature outstanding operational safety and are available with a selection of comfortable control options and can be used indoors as well as outdoors.
For more information on Ottobock's range of innovative solutions that restore mobility please follow us on Twitter @ottobockuk.
---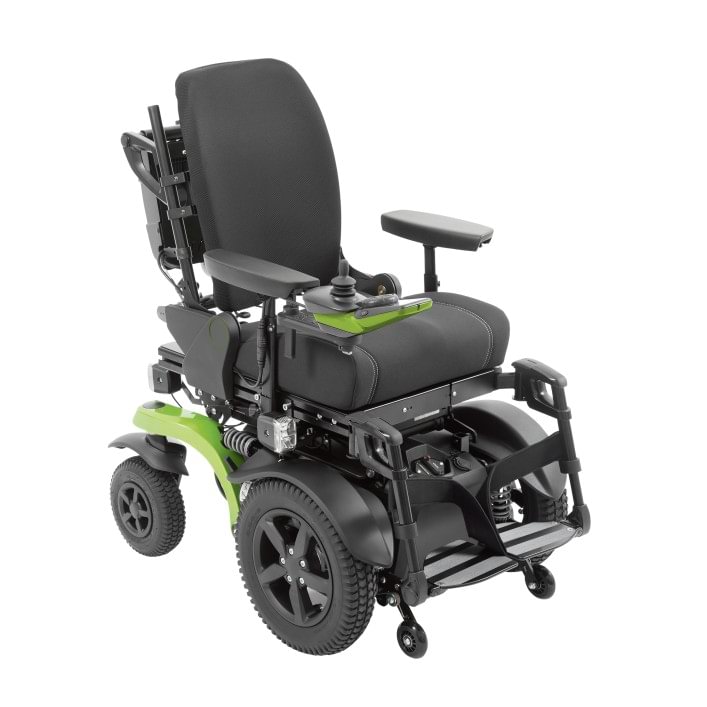 The Juvo power wheelchair has a modular design that offers almost boundless possibilities for assembling custom-made devices for complex requirements.
With front-wheel and rear-wheel drive, the specific driving characteristics and motor powers of two kinds of drive in two frame widths are at your disposal.
A high degree of flexibility is assured by the new VAS (variably adjustable seat) seat frame solution with Ergo-Joint back angle adjustment as well as innovative special and environmental controls, among other features.
Interested in the B50? Find your nearest Ottobock approved mobility dealer on our interactive map.
Related products