Sammi's story - Voyager Evo
Scottish wheelchair racer Samantha Kinghorn uses the Voyager Evo carbon fibre wheelchair from Ottobock
Samantha Kinghorn, one of the UK's most successful wheelchair racers, was the first person in the UK to be supplied with a new 'every day' carbon fibre wheelchair from mobility specialists Ottobock. Provided by Bromakin Wheelchairs, The Voyager Evo wheelchair is made to the highest quality, designed for active wheelchair users and is nearly indestructible. Perfect for her busy, active lifestyle, the Voyager Evo is made entirely to suit Samantha's size, weight and individual style. Built in Germany on a modular system, her Voyager Evo has been designed to suit her lifestyle and is enabling her to travel with ease around the world as she trains for the upcoming Rio Paralympic Games later this year.
Samantha Kinghorn broke her back when she was 14 years old in a tragic farming accident at her home in the Scottish Borders. Airlifted to hospital in Glasgow, she underwent six months of rehabilitation before returning to the farm with the knowledge that she would never walk again.
"The most important thing is acceptance," says Samantha with a smile that appears older than her years. "The rest is easy once you have come to accept your situation". At 19 years old Samantha has overcome tragedy and has gone on to achieve remarkable things. She's met leading politicians, provided motivation to hundreds of school children across Scotland and is travelling the world doing the thing she loves most - racing.
"As part of my rehabilitation I got the chance to attend the Stoke Mandeville Spinal Injury Games and caught the bug. Three weeks after I got my first racing chair I competed in the London Mini-Marathon and came second – I didn't realise you weren't supposed to stop and spent the race thanking everyone who stopped to wish me well."
"I've always been active, and spent my childhood outdoors on the farm. I used to horse ride, and enjoyed gymnastics at school. As soon as I tried wheelchair racing I knew it was what I wanted to do. I now compete in the T53 racing category".
"Off the track, I have used a number of different wheelchairs – I have a farm chair for the mud and puddles and have now opted for a new Carbon Fibre active wheelchair from Ottobock. It's lightweight, easily manoeuvrable and is really comfortable due to its custom design. Because it's all modular, it also means that sections are replaceable – rather than having to get a whole new chair should I need it. I love that I've been able to tailor the wheelchair to suit my personal style, as well as my lifestyle – it's a real expression of me".
"I look forward to travelling around the world with my new Voyager Evo and putting it through its paces as I train – and then who knows… maybe Rio!"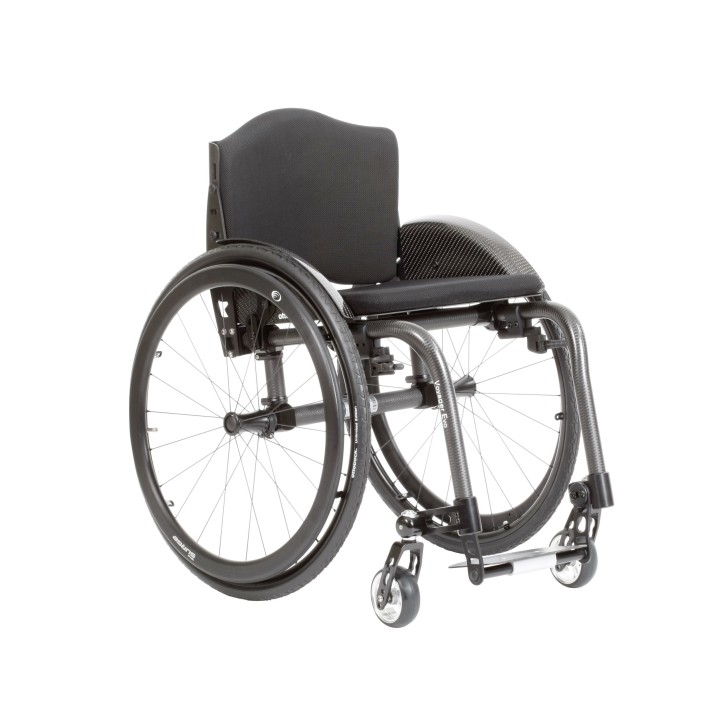 Voyager Evo - lightweight, active wheelchair
There was a time when perfection meant added weight, and stability had to be encumbered by heavy compromises. A time when wheelchairs were only considered solid when they were heavy enough.
The future is lighter, more dynamic and individual. The new, high-end Voyager Evo is high quality and indestructible. And its weight? That is entirely up to you.
---