Wheelchair cushions
Clinical Seating Molecule
We believe every wheelchair user has a unique combination of requirements and priorities necessitating tailored wheelchair seating solutions, often using a combination of different wheelchair and seating products.
Good wheelchair seating should consider each individual's unique combination of requirements in order to optimise comfort, health and functional independence. The clinical seating molecule is a visual representation of the most critical design features which should be identified and prioritised in order to select the optimal seating solution.
All specialist wheelchair cushions should be selected based on a prioritised combination of individual requirements.
Wheelchair Cushions
Terra Cushion
The super lightweight Terra cushion utilizes an innovative rest suspension foam developed by and exclusively available through Ottobock. Weighing less than two pounds, the Terra offers you long term durability and improved comfort.
Anatomically moulded profile: – Ischial loading area
Water-resistant multistretch Dartex outer cover
Max user weight 150kg
Terra Aquos
The Aquos cushion is a stable, lightweight cushion that won't bottom out. Combining unique rest suspension foam and ultra-thin LiquiCell packets, this cushion will provide skin protection and positioning if you have moderate to high risk of skin breakdown.
Anatomically moulded profile
Water-resistant multistretch Dartex outer cover
Max user weight: 150kg
Terra Flair
Constructed of Ottobock Rest Suspension foam (technology available only from Ottobock) the Terra Flair is elastically modified for excellent pressure redistribution, with improved impact damping compared to standard foams
More consistent performance over time
Anatomically moulded profile
Water-resistant multistretch
Max user weight: 150kg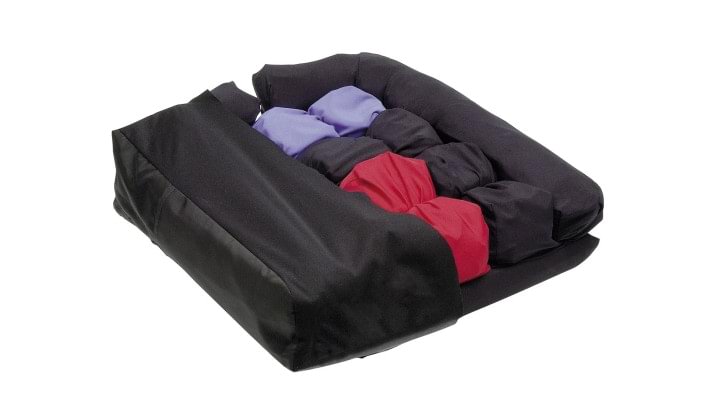 Cloud Cushion
The Cloud Cushion offers excellent pressure redistribution over bony prominences, including trochanters for those at high risk of pressure ulcers. Individual Floam cells ensure a high level of stability, e.g. for transfers and easy adjustment for postural deformity, e.g. pelvic obliquity.
Users at risk of decubitus (elderly & neurological)
Users requiring shear protection
Postural deformity
Max user weight: 250kg
Available in sizes 300 x 300 mm (9 Floam cells) to 580 x 400 mm (30 Floam cells)
Evo Flair
The Evoflair cushion is a triple layer cushion with a hyper-elastic triple layer foam core. The upper layer of the cushion is made with Geltouch foam, with its cooling properties. This helps to reduce surface temperature, and helps to decrease the risk of tissue breakdown due to managing microclimate conditions.
Lightweight at only 1.1kg
Extremely high pressure redistribution rating
Excellent microclimate control, postural stabilisation and shock absorption
Downloads
Wheelchair Cushions
Download our brochure to find out more about our range of Wheelchair Cushions.
---
Other wheelchair accessories